Recent Surveys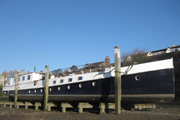 Lennard is a 36m Dutch barge built in 1906. I undertook a pre purchase survey over two days; the hull was gauged between tides while she lay on the grid at Strand on the Green.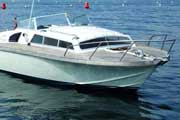 I undertook an insurance survey of this Omega 828 classic sports boat soon after she had changed hands. Her lines are those of a classic design from the 1970s. She is powered by twin Ford Sabre 6-cylinder 180 hp turbo diesel engines giving a top speed of 34 knots or so. However, as my survey demonstrated, a pre purchase survey is highly recommended; one would certainly have more than paid for itself when this boat changed hands.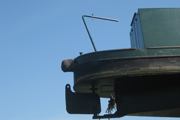 The stern gear (complete with plastic bags) of a 52' Peter Nicholls narrowboat being lifted ready for a survey. Recent narrowboat surveys have included pre purchase surveys, hull surveys and valuations.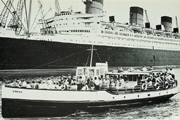 No not the Queen Mary! Varos was built in 1929 at Millwall for the Port of Portsmouth Steam Launch & Towing Company. At one time she worked as the Gosport Ferry. She has since been cut down and had a new superstructure and topsides. I undertook a limited ultrasonic thickness survey of the bottom to help established a value for the vessel.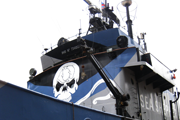 The pic shows the MY Steve Irwin, one of a fleet of vessels employed by Sea Shepherd against whaling fleets in the Antarctic Ocean. I valued two RIBs for Sea Shepherd and was involved in sourcing a new high spec RIB for their rather exciting and demanding requirements for a ship's boat. Here's a link to
Sea Shepherd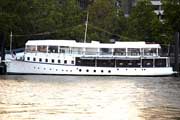 The Yacht London is an exclusive private members club moored on the Embankment, near Cleopatra's Needle in London. I provided advice on the soundness of the deck when a new oak floor was being laid in the restaurant. Here's a link to
The Yacht London